Mastering Greenhouse Production
Get the hang of greenhouses from their selection to crop itineraries
Mastering Greenhouse Production
Get the hang of greenhouses from their selection to crop itineraries
Maximize your efficiency and start growing crops in a greenhouse
Mastering greenhouse production is a game changer that will increase your yields and revenues substantially without having to grow on more land. However, there is a lot to know when it comes to buying, installing and managing one.
This greenhouse production course brings together all the most important information you need to know to reduce errors, improve efficiency and increase your bottom line.
Why greenhouse production?
How does this course work?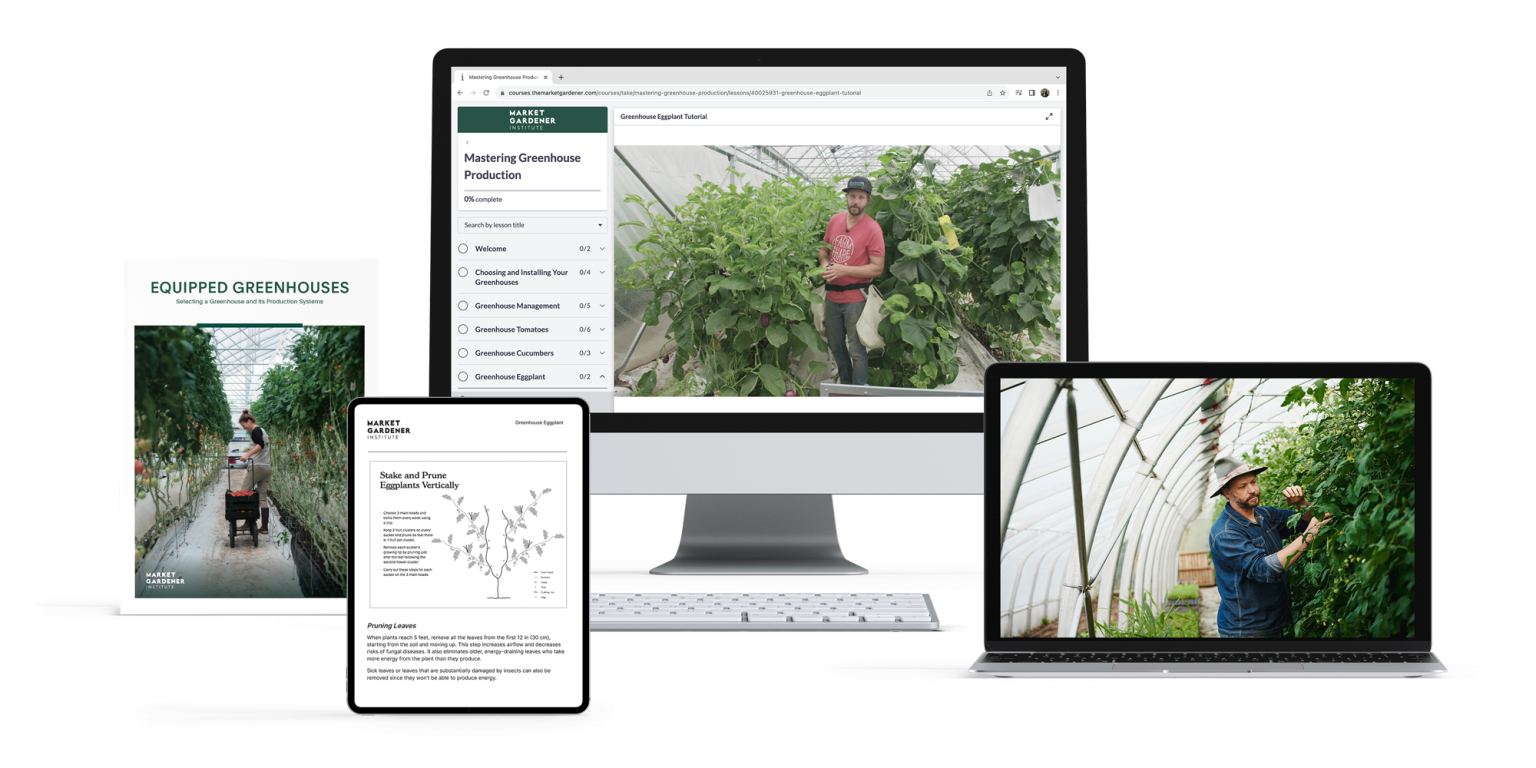 This online course provides precise written and video instruction, to give you the exact methodology, tools and techniques needed to grow crops successfully in a context of heightened efficiency.
Produced in collaboration with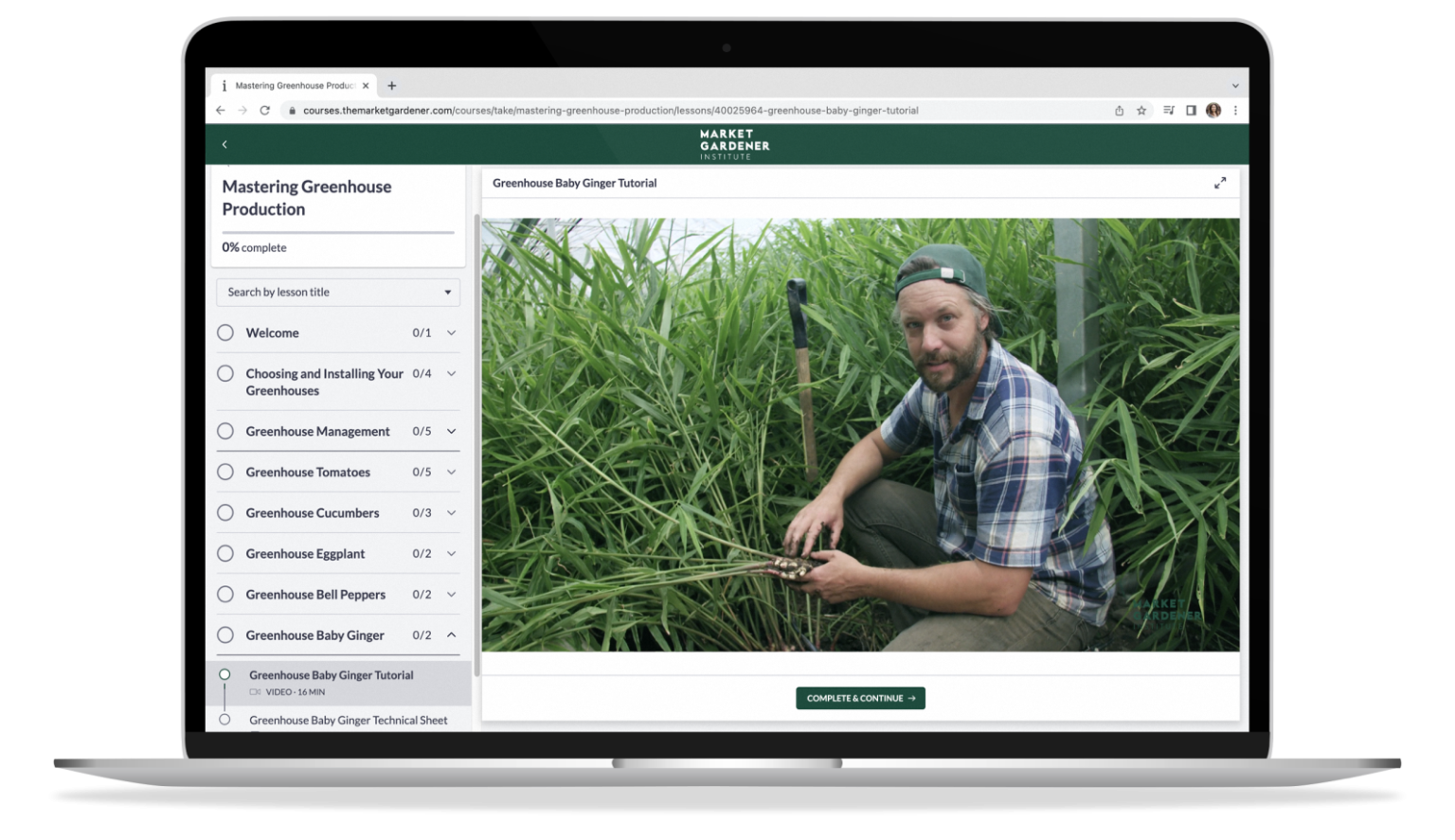 Not sure the course is suitable for your needs?
You have the opportunity to preview a free lesson from the course to see if it meets your needs. In this overview, you'll learn about the 5 main categories of greenhouse systems, how they work, and their key features.


FARMER, EDUCATOR AND AWARD-WINNING AUTHOR
Since launching os his book "The Market Gardener, A Successful Grower's Handbook for Small-Scale Organic Farming" in 2012, JM Fortier has been internationally recognized as a foremost expert in the field of biointensive farming and has spoken at hundreds of conferences, keynote addresses, and training sessions, becoming an inspiration for farmers worldwide.
His current mission is to pass on this knowledge to thousands of farmers through his work at the Market Gardener Institute.
Leading greenhouse manufacturers since 1965
For over 55 years, this North-American manufacturer based in Quebec has been manufacturing metal structures that are adapted to the specific needs of the agricultural sector.
A leader in its market in America, Harnois Industries designs engineered buildings and provides innovative solutions that meet the specific needs of horticultural and market garden producers.
When you do the work and stay committed, the results you can create are extraordinary. Just imagine the growth you'll experience with the right training, guidance, and support.
Don't just take our word for it, see how our course changed the farming journey of hundreds of growers.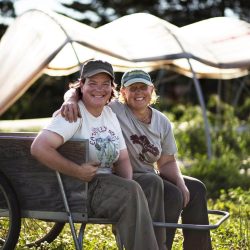 "We have learned about tools and techniques that have made farming more efficient and more sustainable environmentally, financially and physically too!"
— Amy Smith & Verena Varga, Heart Beet Organics, Canada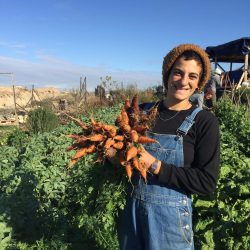 "You can find so much information on the internet; there are so many resources it's hard to know what to trust. I like having an all-in-one place for referencing detailed strategies that have been tested and tried for others to review and put into practice – it really helps!"
— Yara Dowani, Om Sleiman Farm, Palestine"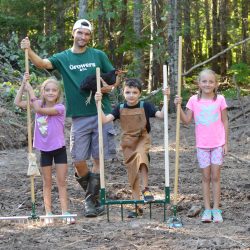 "Everything I learned about growing vegetables comes 100% from JM Fortier. Everything grows to perfection, and our clients are extremely happy."
— Alexandre L'Heureux, The Happy Farm, Canada
Our greenhouse farming production course provides precise written and video instruction, to give you the exact methodology, tools and techniques needed to grow crops successfully in a context of heightened efficiency.
Safe payment with Stripe or Paypal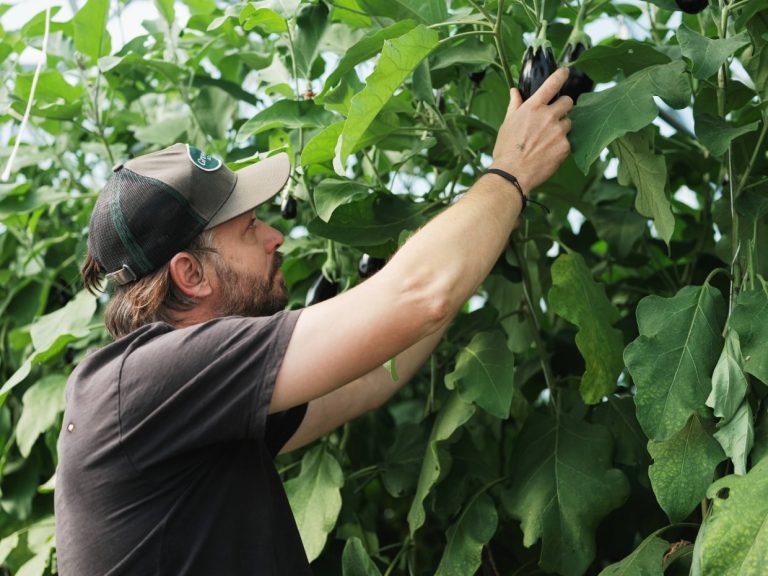 In this short video, you'll get a quick overview of the key learnings and insights from JM Fortier's 20+ years of experience as a successful market gardener.
Choosing and Installing Your Greenhouse
Choosing the right greenhouse and its equipment can be tricky. This module is there to help you to approach this process in the right way and to make the right decisions. You'll get insight on how to choose your greenhouse, how to position it on your farm site, how to install it and which equipment is interesting for your context. Get the right equipment right from the start and don't make costly mistakes!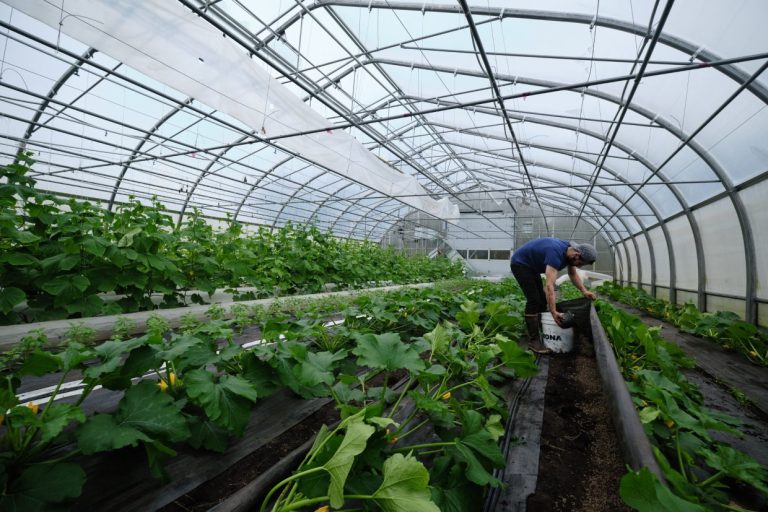 Fertility and pest management are key to assure great yields and plant health. This module will show you how to properly do electrical conductivity tests to keep track of your fertility program in your greenhouse. Beneficial insects are also covered so you can choose which beneficial insects to use for common pests in greenhouses.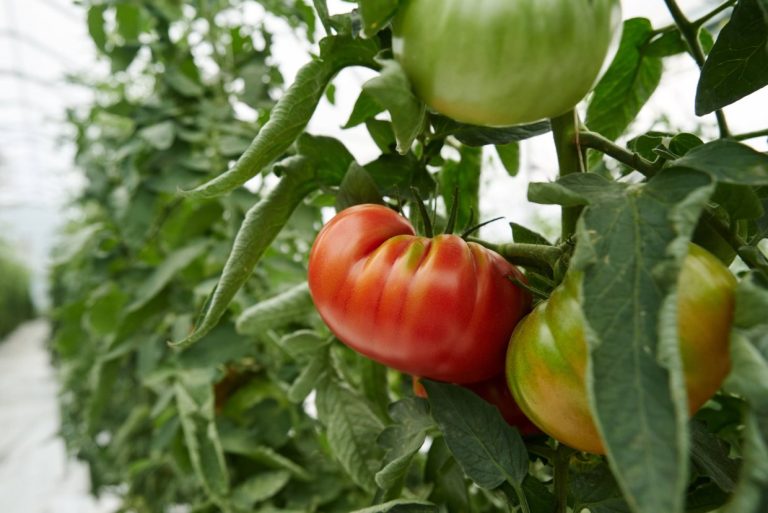 Greenhouse tomatoes are the #1 crop in the market garden. It requires a lot of skills and attention to make the most out of this crop. In this course, you'll also have access to our complete method for tomato grafting (which can be also used for eggplant production). When mastered, this crop will reward you greatly!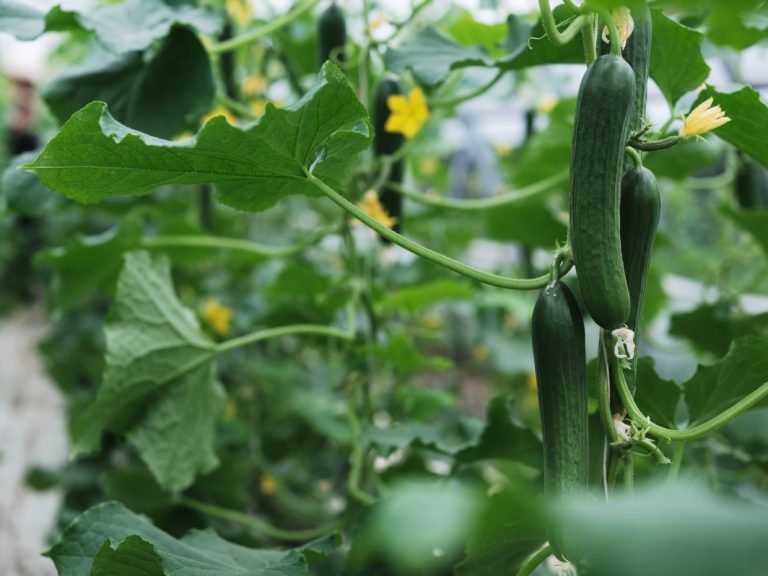 Greenhouse cucumbers are loved by most people and they are very productive. This is what makes them such a good money maker. They are a tricky crop, so in order to be able to have bountiful harvests every week, this module gives you all the details to grow beautiful greenhouse cucumbers!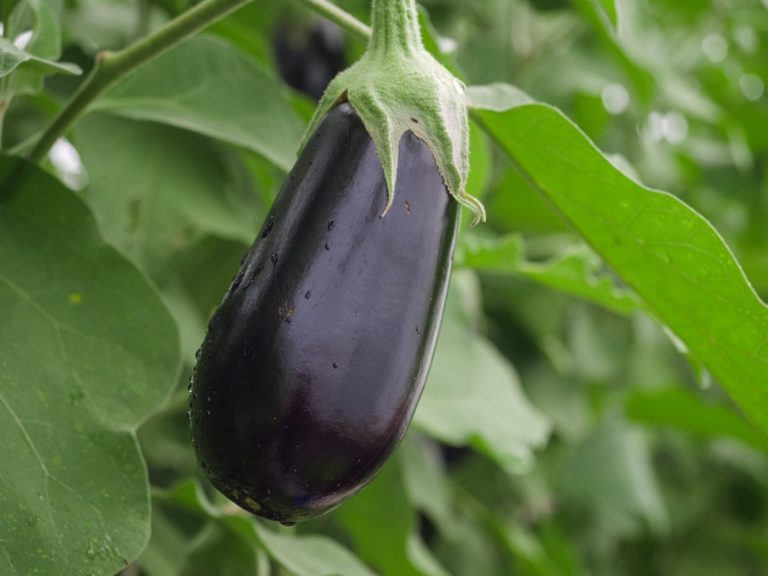 Greenhouse eggplants are a technically challenging crop to grow, as they are susceptible to pests. However, growing eggplants in greenhouses makes them so productive and early! Having them week after week leads to customer loyalty and great income. It's also a nice addition of color to a farmstand!
Peppers are very popular, so it's a great idea to consistently have them early and late in the season. Growing them in a greenhouse is a great way to achieve that. This module will show you how to give the peppers the right conditions to maximize their productivity.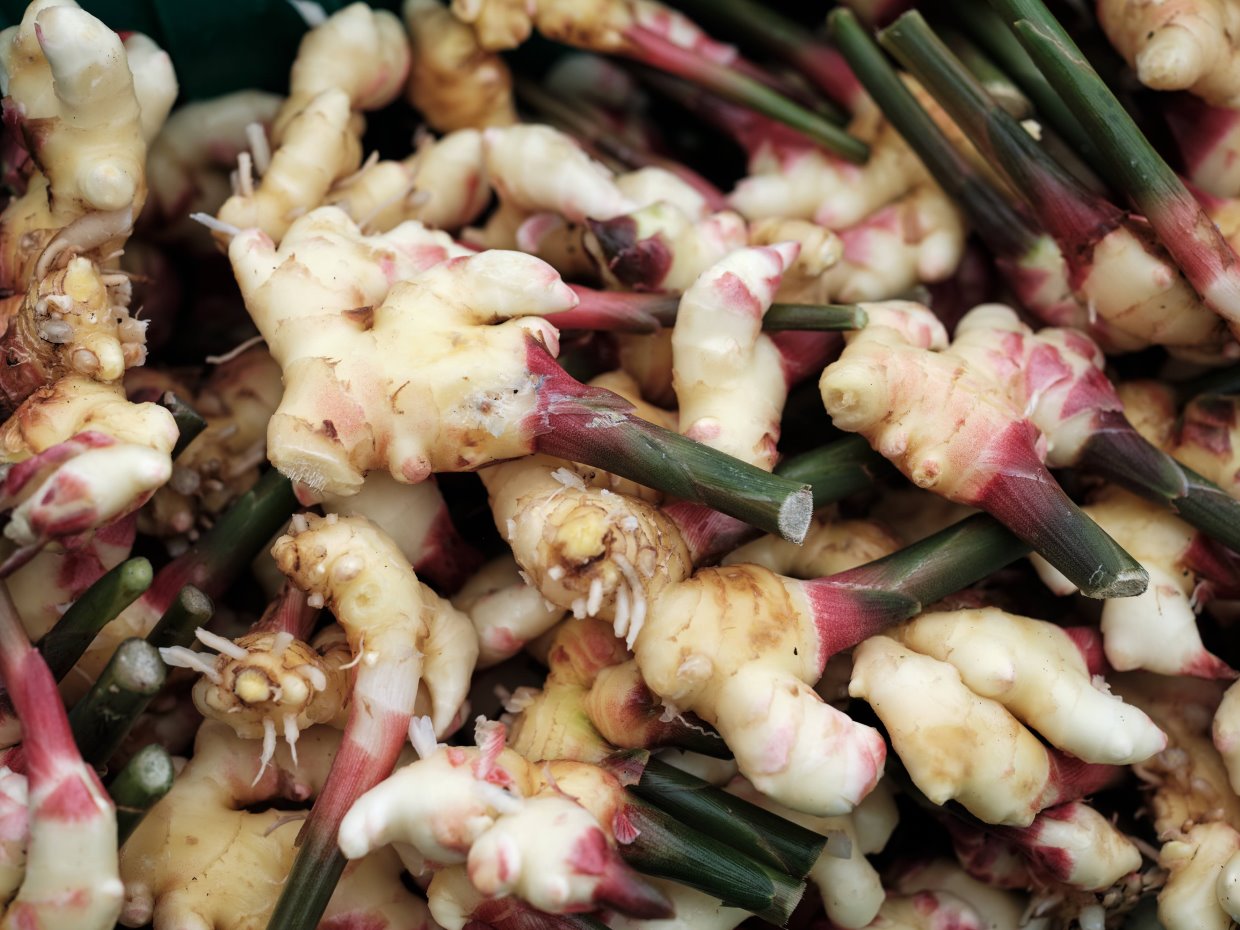 Baby ginger is one of the most lucrative crops per unit area and it is highly dependent on heat, that is why we grow it in our heated greenhouse. It is a low-maintenance, but high-yielding crop. The rarity of baby ginger provides a lot of excitement for customers.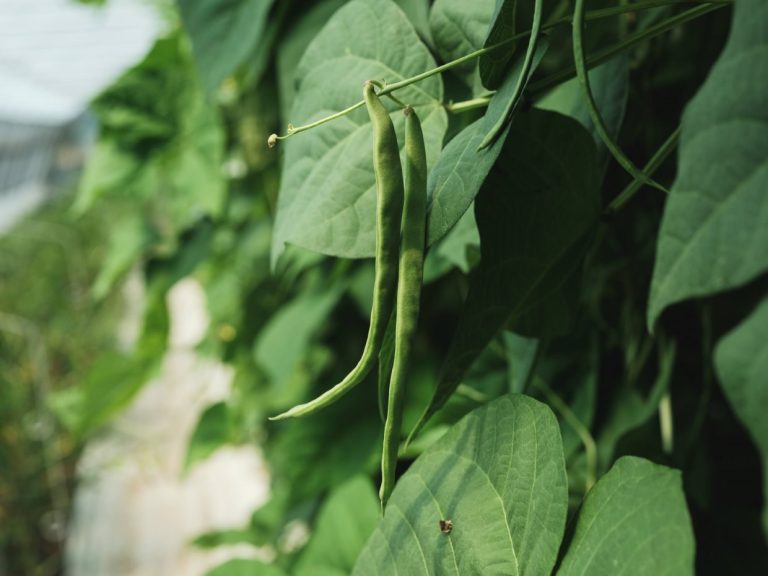 Growing pole beans in a greenhouse is ideal because they can be trellised on the structure and grown earlier and later in the season. As they are so popular you will not have difficulty selling them. The vertical trellis offers fast picking, high yields and longer harvest periods.
"Having a greenhouse will help your farm be more profitable and resilient over time."
Follow JM's complete tried and true methodology for growing high-quality crops in a context of heightened efficiency.
Safe payment with Stripe or Paypal
Join our mailing list to get exclusive content and invitations from the Market Gardener Institute.
Frequently Asked Questions
Tell me more about the course